Beberapa hari lalu Esports Awards akhirnya memulai acara penghargaan mereka pada tahun 2019 di Amerika Serikat, tepatnya di Arlington, Texas. Acara yang bisa disebut sebagai "piala oscar untuk esports" ini menandingkan banyak kategori mulai dari game esports terbaik hingga caster terbaik.
Meski baru saja diadakan di Amerika Serikat tahun ini, Esports Awards sudah menyediakan total 27 piala yang mereka bagikan untuk pemenang tiap kategori yang kemungkinan besar akan terus bertambah seiring dengan berjalannya waktu. Penasaran apa saja kategorinya dan siapa saja pemenangnya? Berikut adalah hasil dari Esports Awards yang penulis kutip dari Dexerto.
Esports Cosplayer of the Year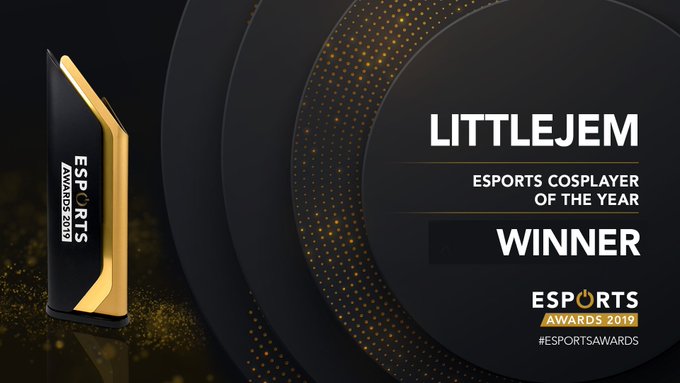 LittleJem – 1st place
Maul Cosplay – 2nd place
Polygon Forge – 3rd place
Jessica Nigri
Zachary "Sneaky" Scuderi
Kinpatsu Cosplay
Spoon Makes
Yaya Han
Willow Creative
Anaelic
Esports Publisher of the Year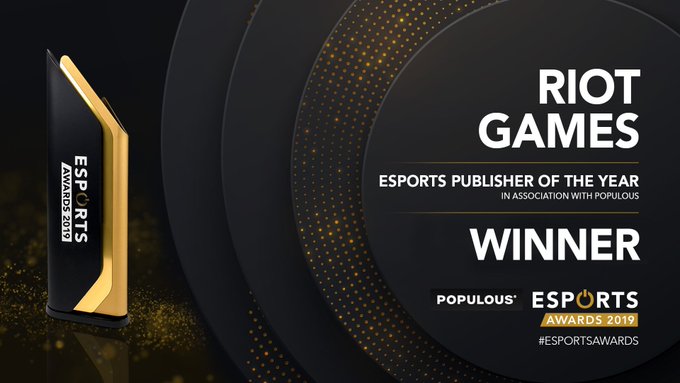 Riot Games – 1st place
Epic Games – 2nd place
Valve – 3rd place
Activision Blizzard
Ubisoft
PUBG Corporation
Tencent
EA
Capcom
Supercell
Esports Videographer of the Year
Logan Dodson – 1st place
Charles Dalton – 2nd place
Mawcho – 3rd place
Cory Doggett
Johannes Lehner
Robert Rogers
Damian Estrada
Gabriel Ruiz
Sean Do
Max Olivo
Esports Supporting Agency of the Year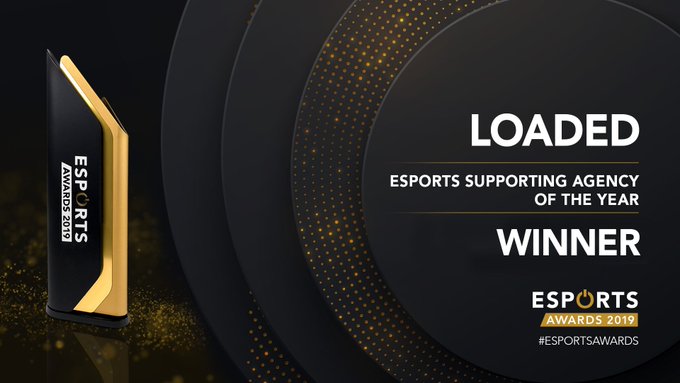 Loaded – 1st place
Evolved Talent Agency – 2nd place
ESG Law – 3rd place
Freaks 4U Gaming
Character Select Agency
Hitmarker Jobs
Code Red Esports
National Association of Collegiate Esports
Esports Play of the Year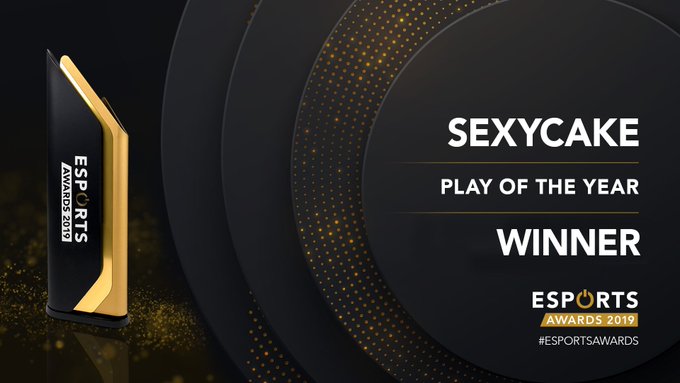 S3xycake – 1st place
Squishy – 2nd place
Caps – 3rd place
Woxic
Dafran
S1mple
Yung
Tjhaly
Dev1ce
Simp
Nisha
Esports Caster of the Year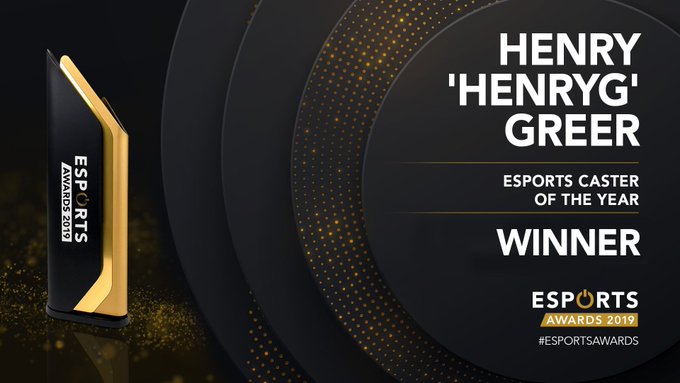 Henry "HenryG" Greer – 1st place
Chris "PapaSmithy" Smith – 2nd place
Jack "CouRage" Dunlop – 3rd place
Christopher "MonteCristo" Mykles
Mitch "Uber" Leslie
Clayton "CaptainFlowers" Raines
Kaci Aitchison
Ben "Benson" Bowe
Indiana "Froskurinn" Black
Clint "Maven" Evans
Matt "Mr X" Morello
Matthew "Sadokist" Trivett
Esports Commercial Partner of the Year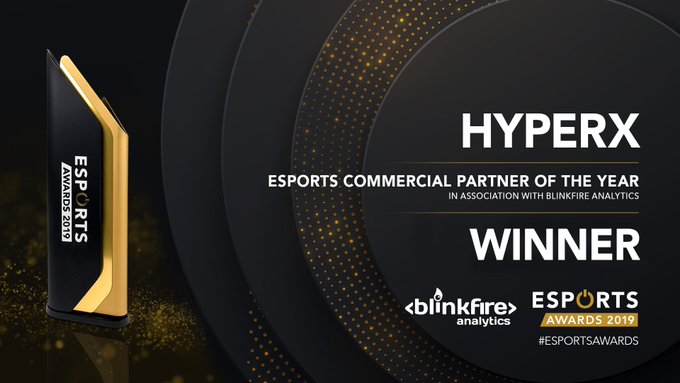 HyperX – 1st place
Intel – 2nd place
Red Bull – 3rd place
Logitech
DHL
Alienware
AT&T
State Farm
G FUEL
Scuf Gaming
Panel's Choice Award of the Year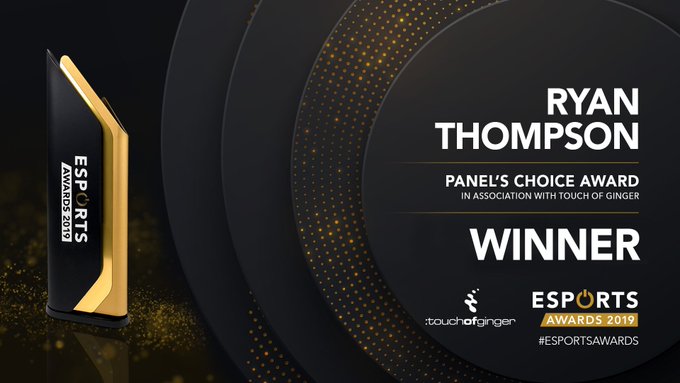 Esports Console Rookie of the Year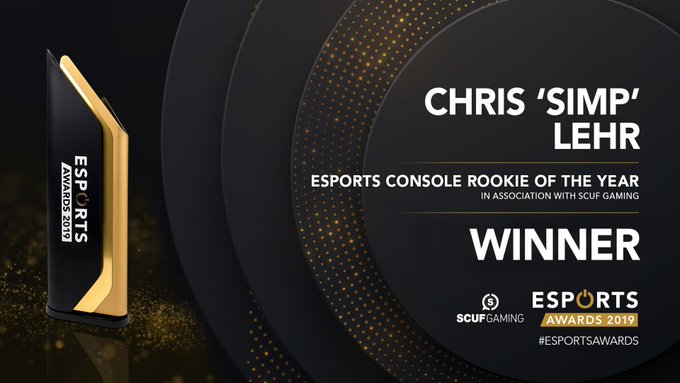 Chris "Simp" Lehr – 1st place
Aydan "Aydan" Conrad – 2nd place
Mohammed "Mo Auba" Harkous – 3rd place
Dylan "Dylan" Henderson
Tyler "aBeZy" Pharris
Kyle "Scrub Killa" Robertson
Dylan "Envoy" Hannon
Leonardo "MKLeo" Perez
Gavin "Tweek" Dempsey
McArtuher "Cellium" Jovel
Esports PC Rookie of the Year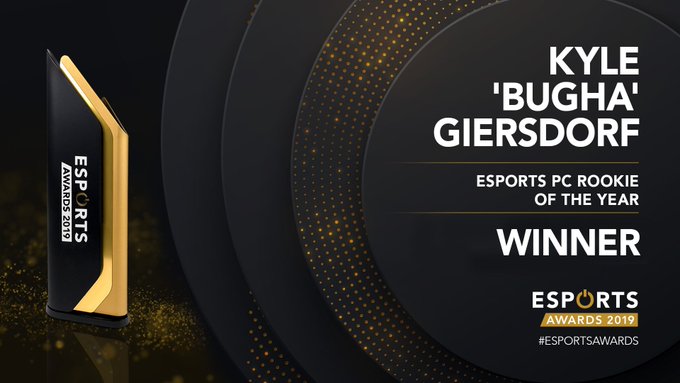 Kyle "Bugha" Giersdorf – 1st place
Mathieu "ZywOo" Herbaut – 2nd place
Emil "Nyhrox" Bergquist Pedersen – 3rd place
Danila "dan" Dontsov
Jere "sergej" Salo
Jeong "Nenne" Yeon-kwan
David "aqua" Wang
Tim "Nemesis" Lipovšek
Esports Journalist of the Year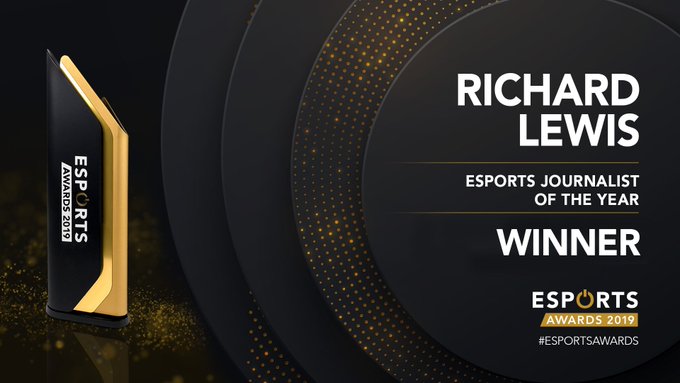 Richard Lewis – 1st place
Ashley Kang – 2nd place
Antonio "Inyustificado" Yuste – 3rd place
Jacob Wolf
Tyler "FionnOnFire" Erzberger
Duncan "Thooorin" Shields
Jared "DeKay" Lewis
Emily Rand
Dustin Steiner
Kevin Aiello
Esports Hardware Provider of the Year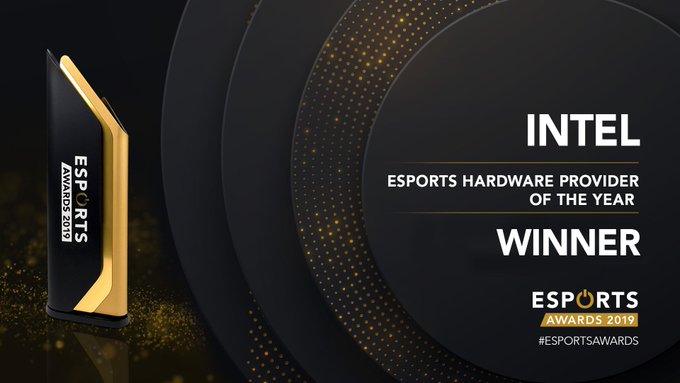 Intel – 1st place
Nvidia – 2nd place
HyperX – 3rd place
AMD
Logitech
ASTRO Gaming
Scuf Gaming
Republic of Gamers
Secretlab
Micro-Star International
Razer
Alienware
Esports Coach of the Year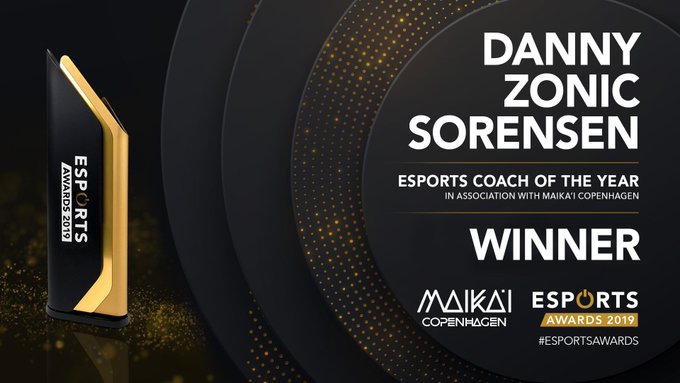 Danny "zonic" Sørensen – 1st place
Kim "kkOma" Jeong-gyun – 2nd place
James Crowder – 3rd place
Titouan "Sockshka" Merloz
Brice "Faccento" Faccento
Park "Crusty" Dae-hee
Eric "adreN" Hoag
Mike "Packing10" Szklanny
Nicholas "Ashes" Ridgeway
Rémy "XTQZZZ" Quoniam
Fabian "GrabbZ" Lohmann
Esports Game of the Year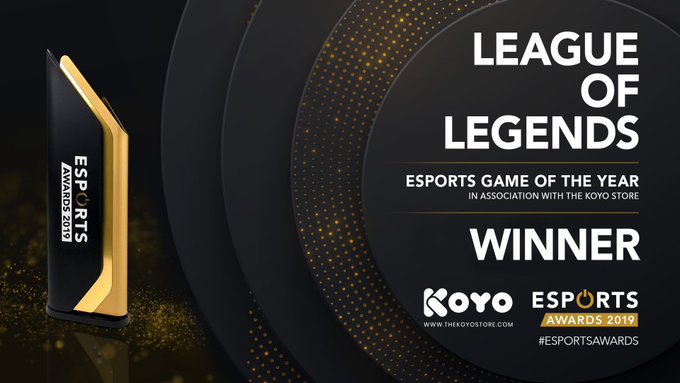 League of Legends – 1st place
Counter-Strike: Global Offensive – 2nd place
Rainbow Six Siege – 3rd place
Fortnite
Overwatch
PlayerUnknown's Battlegrounds
Call of Duty: Black Ops 4
DOTA 2
Rocket League
Street Fighter V
Esports Personality of the Year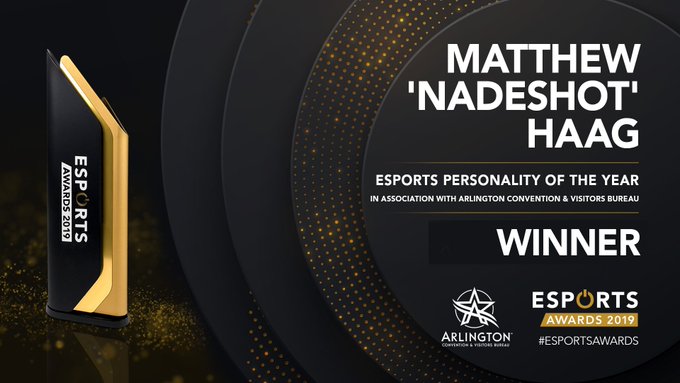 Matthew "Nadeshot" Haag – 1st place
Jack "CouRage" Dunlop – 2nd place
Tyler "Ninja" Blevins – 3rd place
Hector "H3CZ" Rodriguez
Benjamin "DrLupo" Lupo
Eefje "Sjokz" Depoortere
Gabriel "FalleN" Toledo
Alex "Goldenboy" Mendez
Steve Arhancet
Carlos "ocelote" Rodríguez Santiago
Esports Coverage Website of the Year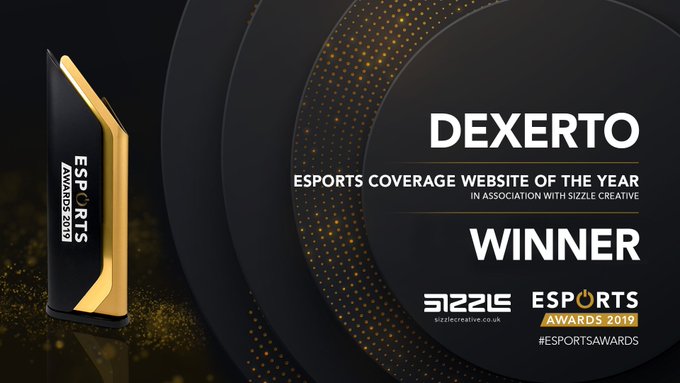 Dexerto – 1st place
ESPN Esports – 2nd place
Liquipedia – 3rd place
VP Esports
GosuGamers
Dot Esports
Inven Global
theScore esports
The Esports Observer
HLTV
Esports Team of the Year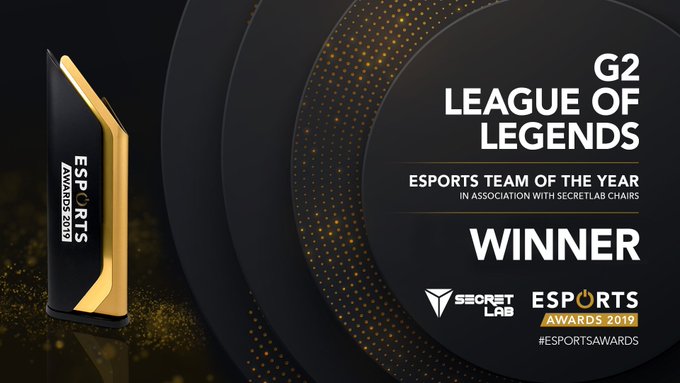 G2 Esports [LoL] – 1st place
Astralis [CS:GO] – 2nd place
San Francisco Shock [OWL] – 3rd place
SK Telecom T1 [LoL]
Vancouver Titans [OWL]
Renault Vitality [RL]
100 Thieves [CoD]
G2 Esports [RB6]
Team Liquid [CS:GO]
Fun Plus PhoeniX [LoL]
OG [Dota 2]
EUnited [CoD]
Content Creator of the Year
Craig "Mini Ladd" Thompson – 1st place
Jack "CouRage" Dunlop – 2nd place
Brian Michael "Terroriser" Hanby – 3rd place
Jared "SunlessKhan" Zook
Matthew "Nadeshot" Haag
Jason "Jev" Eugene
Duncan "Thooorin" Shields
Travis Gafford
UpUpDownDown
Lannan "Lazarbeam" Eacott
Alastair "Ali-A" Aiken
Esports PC Player of the Year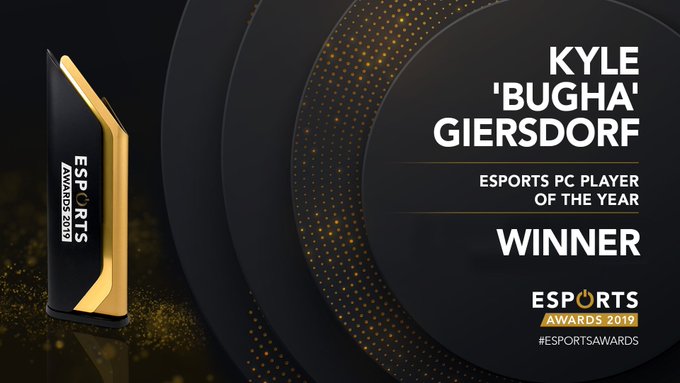 Kyle "Bugha" Giersdorf – 1st place
Luka "Perkz" Perković – 2nd place
Oleksandr "s1mple" Kostyliev – 3rd place
Johan "N0tail" Sundstein
Nicolai "dev1ce" Reedtz
Niclas "Pengu" Mouritzen
Yiliang "Doublelift" Peng
Jay "sinatraa" Won
Topias Miikka "Topson" Taavitsainen
Russel David "Twistzz" Van Dulken
Matthew "Super" DeLisi
Rasmus "Caps" Winther
Esports Console Player of the Year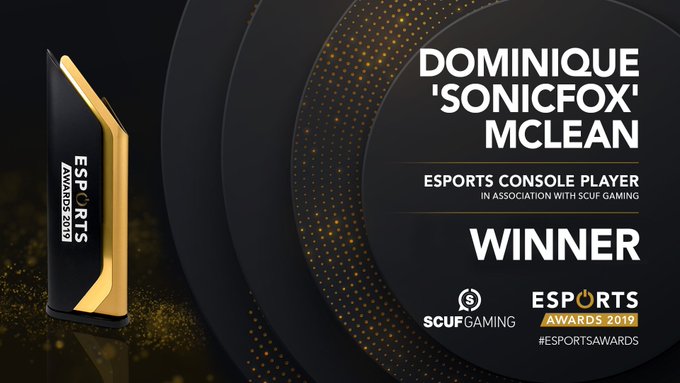 Dominique "SonicFox" McLean – 1st place
Alexandre "Kaydop" Courant – 2nd place
Chris "Simp" Lehr – 3rd place
Justin "jstn" Morales
Sam "Octane" Larew
James "Clayster" Eubanks
Gilbert "Xplosive" Rojo
Juan "Hungrybox" DeBiedma
Brandon "Dashy" O'tell
Mohammed "Mo Auba" Harkous
Leonardo "MKLeo" Perez
Kenny "Kenny" Williams
Esports Host of the Year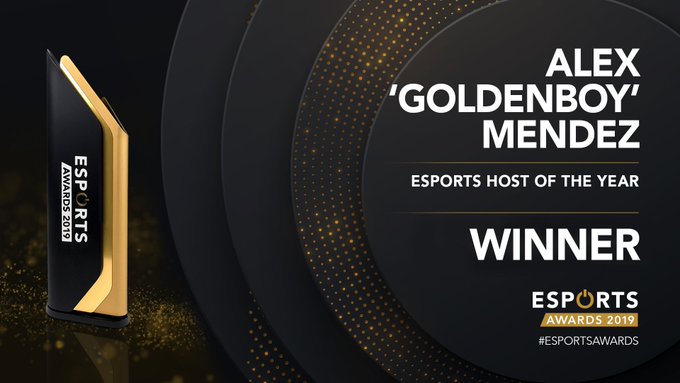 Alex "Goldenboy" Mendez – 1st place
Eefje "Sjokz" Depoortere – 2nd place
Nyvi Estephan – 3rd place
James "Dash" Patterson
Alex "Machine" Richardson
Tres "stunna" Saranthus
Paul "Redeye" Chaloner
Katie Bedford
Frankie "getfrank" Ward
Chris "Puckett" Puckett
Streamer of the Year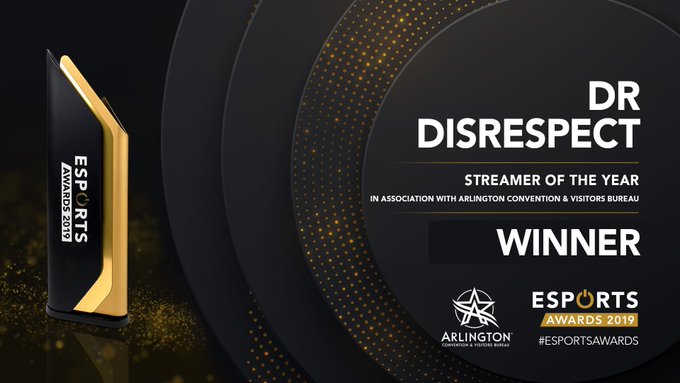 Dr Disrespect – 1st place
Jack "CouRage" Dunlop – 2nd place
Alan "alanzoka" Ferreira – 3rd place
Nick "NICKMERCS" Kolcheff
Corentin "Gotaga" Houssein
Michael "Shroud" Grzesiek
Tyler "Ninja" Blevins
Turner "Tfue" Tenney
Timothy John "TimTheTatman" Betar
Imane "Pokimane" Anys
Esports Organization of the Year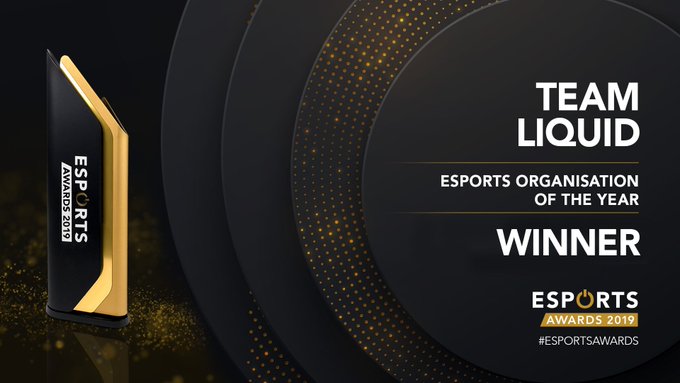 Team Liquid – 1st place
G2 Esports – 2nd place
100 Thieves – 3rd place
Cloud9
Team Vitality
Fnatic
NRG Esports
EUnited
Seperti yang kita lihat di atas, League of Legends menyabet banyak sekali juara untuk beragam kategori seperti game esports terbaik, publisher game terbaik, bahkan roster League of Legends G2 Esports juga memenangkan kategori tim terbaik dengan mengalahkan Astralis.